BEREAN BIBLE BAPTIST CHURCH EVENTS
Watch Night: Wednesday, December 31, 2014, at 10:00 p.m. Again this year, we will have a joint service with Southwest Christian Fellowship here at Berean. Breakfast will be served immediately after service. Please make plans to attend this special time of worship and fellowship.

The Baby Buggy Ministry: will begin collecting diapers (sizes 2 & 3) over the next few weeks for baby Michael Zachary III. Please place all donations inside the "Baby Room" located in the church foyer. Please contact Victoria Bibbs if you need additional information.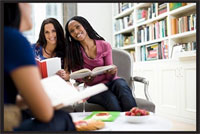 Saturday Morning Women's Quarterly Bible Study will meet Saturday, January 17th, from 10:00 a.m. - 12 noon. Presenter: Teresa Skepple. The theme:"Counterfeit Faith" Mark 10:17-22. Join us as we discuss the characteristics of authentic faith and take a peek into the lives of Biblical women who walked faithfully before the Lord. Please contact Deaconess Deborah Ponder if you need additional information
Carrie Steele Pitts/Special Offerings: The deadline to have your gifts here for the Carrie Steele Pitts young people is December 22nd. Also today is the last day we are collecting money for the special gifts to our widows here at Berean and the residents of the nursing home to whom we minister. Please be mindful of these two special offerings.

Evening Service: Tonight beginning at 6:30 p.m. is 'Open Mic Night'. Come with any questions you have about the Word of God..
Church Closed: Please note the church will be closed this Wednesday, December 24th - Friday, December 26th. Please note there will be no Prayer Service for the next two weeks. The service will resume Wednesday, January 7, 2015 at 7:00 p.m.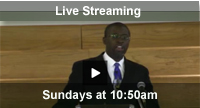 Live Streaming: For those of you who are out of town or sick and would like to experience the entire service live, we are now streaming live every Sunday morning at 10:50am. Please be advised that currently this is a free service and you will have to listen to at least one advertisement before you can fully enjoy the service. Secondly, we do not have any control over what is advertised. Click here
Church Finances: If you are interested in receiving a monthly update of the church's finances please contact the church office to leave your e-mail address or the mobile phone number you would like the church to use to contact you. Please note the same report will be on-line also on the Berean website under member services.
Reminders:
Reminder: Set your clocks back one hour on Saturday, November 1st. Daylight Savings Time ends on Sunday, November 2nd.
If anyone needs prayer or if you are seeking a church home and need information on becoming a member of our church, two elders are available each Sunday after service in the front row in front of the organ after service is dismissed.